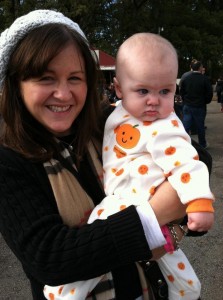 I haven't given much thought these almost eight months as to whether I see myself as someone's mother.
At least not through the lens in which I'd always viewed women who mothered, no matter how that mothering happened. Truth be told, there really hasn't been the extra time to ponder such things. Parenting is exhausting and, if you're like me, you make decisions about which hills to die on, which areas of life in which you will expend the teensy surpluses of energy that remain.
My father said to me not long ago that he'd never had an expectation for the kind of mother I would be, but that whatever he might have thought, I've done even better than he could have imagined. And he said it while he watched me precariously balance my child on knee, grapple with her jacket, the carseat, her diaper bag and a toy or two hanging from my gaping maw as we made our way out the door, all in about 30 seconds flat.
I knew he was seeing a mother, and he was seeing her (me) through that lens I'd always envisioned – capable, multitasking, harried and generally filled with a mixture of joy and fatigue.
Yesterday we headed off to the apple orchard. October is an insanely busy month for us, but I wanted pretty desperately to go. I didn't know, or care, really, if Abigail would find any interest or joy in the trip, but doing these things, these insanely cheesy activities like visiting an apple orchard, was something I wanted for my family, and want her to know when she's older that we've been making memories together, with her, our family, since before she can remember.
Probably  because she is of that age – aware, more aggreeable, able to see beyond the tip of her nose – Abigail loved every second of it. Mostly she loved the petting farm, and could not get enough of the hens, turkeys and miniature horses. She loved the tractors – OH MY GOD. The pictures of her on the tractor are PRICELESS and wait till you see them when I post them as part of her eighth month newsletter! – and all of the people. It was the most amazing day.
Scott snapped this picture of she and I as we made our way to the zoo. It's a classic AG picture, refusing to look to the camera, wiggling like mad to get out of my arms. But I could care less. I see this picture of me and my girl, about to embark on our first big family field trip, and I can see it. I am her mother.
I'll probably request to be buried with this picture.