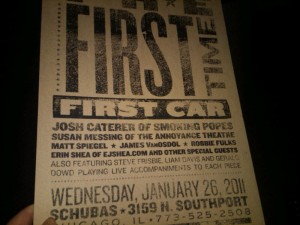 The only point to me owning a car in 1995 was because it was the thing to do when you inherited a gob of money. Had my mother not been killed in a car accident six years earlier, not only would I not have even been able to entertain the notion of owning a car, but it's likely I wouldn't have had a place to which to drive it.
But I did, and that place was Bradley University, a small liberal arts college I landed at because I was far too scared of failure to put myself out there and try to get in anywhere else. That and my best friend/unrequited high school love headed there a year earlier, and the only way for me to continue the drama that went along with that relationship was to follow him to Peoria, Illinois. I'd love to tell you that I'm a different person now, but I'm not. My father likes to say that who we are is basically formed and finished by about age five, and I tend to agree with him. The shades of the person I have always been are as evident in why I hid out on the bench during volleyball games in junior high as it is in why I chose to buy the Orbit Stroller Travel System G2 for our daughter who, as you can see, is threatening to make her debut on stage here with me right now. I've always, always been just a little bit frightened.
I loved Elmo. A 1992 Geo Metro Convertible, he was red, had no backseat, and with only three cylinders to his name, was powered by what I can only assume was the furious anger of ten thousand little bees making the engine block their hive. Elmo was curiously decked out on each side of his body in the sort of 80s-inspired decals I coveted for my bedroom walls as a child. In addition to adding to him these strange, douche-y, celestial-inspired stickers of my own, I also invested at least $600 worth of my hard-earned money into a stereo system for Elmo.
I was driving into Chicago a lot that summer, top down, in a car that could safely double as a roller skate, I needed to be able to listen to the music that had helped shape the person I was becoming without wind interference. I wish I could tell you that somewhere deep down I felt a twinge of guilt about spending such a large chunk of cash on such a frivolous purchase but for years my only mechanism for listening to and, subsequently, getting lost into music was the dilapidated Walkman I used during my two-plus mile walk to my after-school job during high school, running the drive-thru at Wendy's. By the time I was 16, I'd discovered college radio on that Walkman, which meant REM, The Pixies and Pearl Jam, and though my life felt uncertain and as fragile as spun sugar, those songs were proof that there was a world out there bigger than Joliet, Illinois, bigger than the sadness that enveloped me and my family, bigger than my fears and they would pave the way to my salvation.
Before salvation was even remotely possible, however, I needed to get to college and to get laid. I mean, what 18-year-old gives a shit, really, about putting to bed her sad childhood in any rational, self-aware manner when there was the Metro? I had no time for reflection when there was the FreeFest, and I actually knew real, live people in the bands playing at it? And maybe might sleep with one of them? One of the persons in the band, not, like, an entire band. My self-esteem may have been tender and as delicate as a flower at that age, but I was more interested in someone taking me out to dinner than I was in contracting a venereal disease.
But here is what no one tells the sad, awkward, chubby little indie-music loving geek girl from Joliet, with her penchant for saying not-so-terribly clever things and naïveté about those boys in bands: they are as interested in taking you out to dinner as you are in fucking them blindly on the floor of recording room studio on the north side of town. It all makes for a great story, but for those three-hour rides back and forth from Chicago and central Illinois, when it's just her and Elmo, there is no story. There is only flat back roads, cigarette butts that don't make their way out the window as you go 75 mph down I-74 and a pile of CDs strewn all over the passenger seat, waiting for their turn in the player, for the chance to tell this sad, awkward, chubby little indie-music loving geek girl that there is hope for her still.
—
The other day I was driving down Austin Avenue in Oak Park, making my way to my weekly appointment to visit the midwives overseeing my care during the latter part of my pregnancy.
My husband and I bought a new car, and it's black and shiny and has room for a car seat. It also has XM radio, which includes a station solely devoted to Pearl Jam. My initial inclination is to make comments that 16-year-old Erin would be appalled by the idea that such a thing would exist, let alone exist in a car with heated leather seats that she owned. But I was never really that cool and, at that moment, the song was "Footsteps," and the first time I heard that song was in 1994 when they played it at Chicago Stadium. Before the Internet, when I couldn't actually buy it anywhere because it was originally written for Temple of the Dog, I think, and how cool would it have been to have that kind of access?
But last week, it was a live concert recording I was hearing, from a show they played in Australia in 2006, and as it wrapped, Eddie Vedder warbled something about this being one of the best shows they'd played in recent memory, and how he met a young man the night before who asked a favor of him, but that he hadn't seen this young man – Daniel – all night so that Daniel could cash in the favor.
"So," Eddie said, "To the woman standing next to Daniel right now…" Oh God. Oh no. He's not going to do this, right? What the fuck? I was trying to parallel park this beast of a car I now drive, while not finding myself progressively irritated by the fact that five years ago, Eddie Vedder ended a song about a killer on death row with a goddamn marriage proposal on behalf of some guy in the audience.
But he did. And the crowd cheered and they began to play "Throw Your Arms Around Me," and I got out of the car and rubbed my very large belly and laughed in the face of all of that obvious joy.
By the time I traded Elmo in, he and I traveled more than 100,000 miles together, an amazing feat for a car whose odometer only came with five digits. He was cracked and weathered and worn. I'd treated him horribly, but I'd treated myself horribly, too, and the condition in which I'd left Elmo reflected that, along with almost every single CD I owned during that time period.
Though I can't play it anymore, owing to the scratches and nicks adorning it, I still can't bear to give up the copy of Jeff Buckley's Grace I bought at Co-op off of Bradley's campus.
Sometimes I find myself, quite understandably, living in abject fear of having a daughter, knowing what I know about life and how sad it can be sometimes for a girl. I find myself apologizing to her more often than not, praying that she doesn't end up like me. But if I get a solemn wish, if I get the chance to make true for her the one thing that all of those miles in Elmo never gave me, it is that she sees the joy sooner than I ever did.
—
Written and performed for CHIRP's First Time reading series.