I note in the sidebar that one of the things I love most is Clean Eating magazine. I used to subscribe to Oxygen magazine just so I could get the recipes – I love the lifting routines, but to be honest, I can only take so many of the copious supplement ads. It's a little insane and insulting.
So when they launched Clean Eating magazine, I rejoiced. The recipes are not only awesome, but the tips and meal plans are solid. One of my favorite new recipes to come out of their kitchens is the New Potato and Turkey Skillet. I make it a couple of times a month now. It's amazing. Filling, healthy and, if you're following Weight Watchers, I've got it clocked at 6 Points Plus per 1 1/4 cups and 2 Tbsp of feta.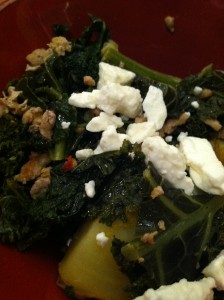 1. Preheat oven to 425 degrees
2. Coat a large (at least 12 inch) oven-proof skillet with cooking spray and heat on medium. Add turkey, season with salt and pepper and cook, breaking up meat with a spoon, until no pink is visible, 5 to 6 minutes. Transfer turkey to a bowl, returning skillet to heat.
3. Add potatoes and thyme to hot skillet and season with salt and pepper. Transfer skillet to oven and cook until lightly browned and tender (20 minutes) stirring once.
4. Carefully return skillet to stovetop on medium-high heat (leave oven at same temp). Add broth and bring to simmer
Add chard and stir just until wilted. Stir in tomatoes, resemary, chili flakes, lemon juice, and reserved turkey.
5. Ensure broth is simmering and transfer skillet back to oven. Cook until tomato skins burst – about 10 minutes – stirring once
New Potato and Turkey Skillet
Olive oil cooking spray
1lb. ground Turkey Breast
sea salt and fresh ground black pepper, to taste.
1lb. new potatoes, scrubbed and quartered
Pinch dried thyme
3/4 cup low-sodium chicken broth
1lb swiss chard, thick stems removed, leaves chopped (EJS: I use Kale and Collard greens, too. Spinach would work as well.)
1 pint grape tomatoes (EJS: I've subbed in sun-dried tomatoes which work nice, as do Heirloom tomatoes, too.)
1 tsp chopped fresh rosemary
Pinch red chile flakes, or to taste
Juice 1/2 lemon, plus four wedges for serving
1/2 cup crumbled feta cheese (about 2oz)
Nutrition info:
Per serving(1 1/4 cup potato mixture and 2 tbsp feta)
Calories: 271
Fat: 4g
Carbs: 24g
Fiber: 5g
Sugars: 4g
protein: 35g
Sodium: 559mg